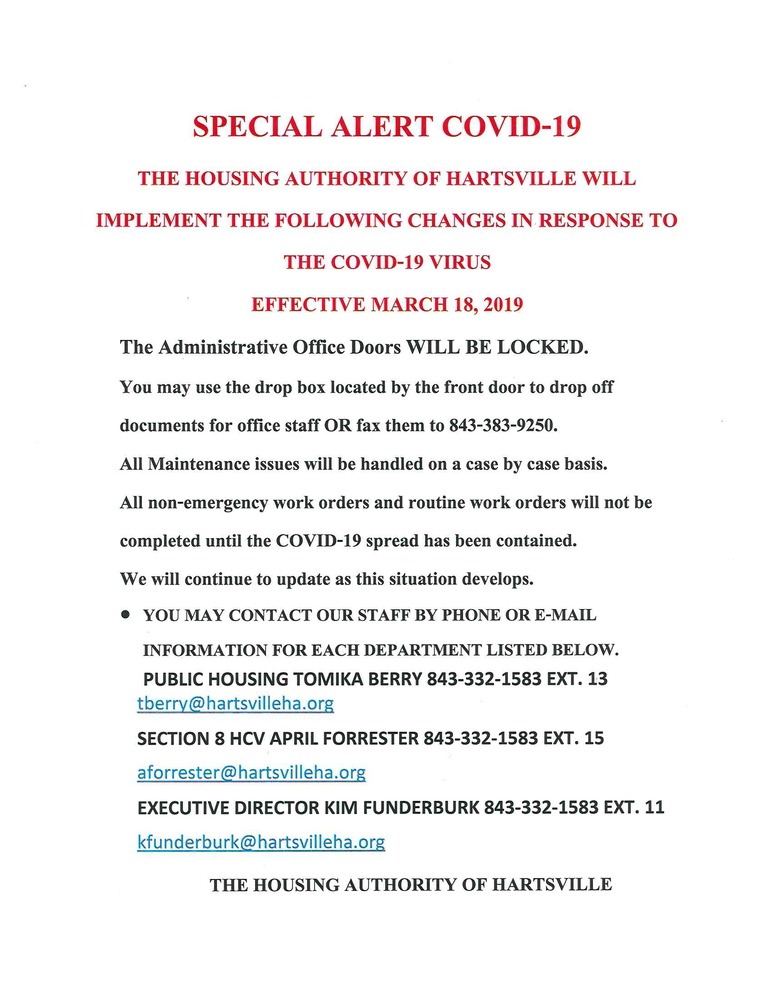 SPECIAL ALERT COVID-19
THE HOUSING AUTHORITY OF HARTSVILLE WILL IMPLEMENT THE FOLLOWING CHANGES IN RESPONSE TO THE COVID-19 VIRUS
EFFECTIVE MARCH 18, 2019
The Administrative Office Doors WILL BE LOCKED.
You may use the drop box located by the front door to drop off documents for office staff OR fax them to 843-383-9250.
All Maintenance issues will be handled on a case by case basis.
All non-emergency work orders and routine work orders will not be completed until the COVID-19 spread has been contained.
We will continue to update as this situation develops.
YOU MAY CONTACT OUR STAFF BY PHONE OR E-MAIL INFORMATION FOR EACH DEPARTMENT LISTED BELOW.
PUBLIC HOUSING
TOMIKA BERRY 843-332-1583 EXT. 13
SECTION 8 HCV
APRIL FORRESTER 843-332-1583 EXT. 15
EXECUTIVE DIRECTOR
KIM FUNDERBURK 843-332-1583 EXT. 11
THE HOUSING AUTHORITY OF HARTSVILLE